PLANET FORMATION AFTER PEBBLE ISOLATION
Call: 18th Open Access Grant Competition
Researcher: Dr Ondřej Chrenko
Institution: Astronomical Institute of Charles University in Prague
Field: Astrophysics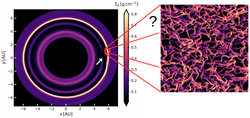 Ondřej Chrenko was awarded more than 600,000 core hours for his project focused on planet formation processes. Modern scenarios of planet formation suggest that planets form by accretion of cm to m-sized solid particles, the dynamics of which is subject to the aerodynamic drag in the surrounding protoplanetary disk. The drag not only causes a radial drift of pebbles through the disk but also enhances the efficiency of the gravitational capture of pebbles by a planetary embryo. However, once the mass of a growing protoplanet exceeds a certain threshold, a pressure bump is formed in the gas outside the planetary orbit where pebbles start to accrete, and the protoplanet growth ceases. The objective of this project is to investigate the evolution of pebbles, which gradually accumulate in the pressure bump. Ondřej Chrenko will use the IT4Innovations supercomputers for 2D and 3D simulations of a two-fluid flow (solid-togas) system in order to verify if hydrodynamic instabilities occur in the pressure bump. These instabilities might cause pebbles to become concentrated into clumps, which might undergo a gravitational collapse, thus forming a new planetary embryo. Using local, high-resolution simulations, the project team will study whether hydrodynamic instabilities, such as those in the figure on the right (Comment: the figure on the right is borrowed from a paper by Benítez-Llambay et al. 2019), may occur in the pressure bump.
---

IMPACT OF MASSIVE STARS ON THE COMPOSITION OF GLOBULAR CLUSTERS
Call: 18th Open Access Grant Competition
Researcher: Dr Michail Kourniotis
Institution: Astronomical Institute of the CAS
Field: Astrophysics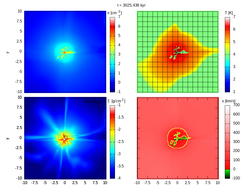 Michalis Kourniotis from the Astronomical Institute of the CAS was awarded 718,000 core hours to study the impact of massive stars on the composition of globular clusters. With a diameter of tens of light years, globular clusters are spheroidal dense collections of hundreds of thousands to millions of very old stars. They can typically be found in the spheroidal halo of the Milky Way and other galaxies. Originally thought to comprise of stars of the same age, it is now well established that globular clusters host multiple generations of stars with different ages and chemical compositions. Numerical methods for simulating the non-stationary wind of massive clusters are valuable for acquiring knowledge about gas dynamics inside a small globular cluster and thermal instabilities that potentially lead to newborn stars, in particular. The latest stellar evolutionary models provide essential input parameters to determine the mass and energy accumulated in globular clusters by massive stars in the form of extremely fast stellar winds and supernovae outbursts. Michail Kourniotis with his colleagues Richard Wünsch and Barnabás Barna will use the supercomputer to perform high-resolution 3D simulations to obtain information about formation of several stellar generations in spheroidal globular clusters. In addition, the objective of this project is also to study the impacts of extreme stellar types on the wind evolution in globular clusters and its spatial distribution.
---

FORMATION OF PLANETARY SYSTEMS
Call: 13th Open Access Grant Competition
Researcher: Dr Ondřej Chrenko
Institution: Charles University
Field: Astrophysics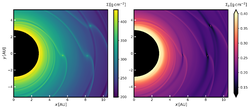 Can life be created on planets discovered outside our solar system (on exoplanets)? One of the key steps to find the answer to this question is understanding how exoplanets and their systems are formed. Possible scenarios for planetary system formation will be researched by Dr Ondřej Chrenko from Charles University in Prague. In this research project, he collaborates with other Czech astronomers Doc. Miroslav Brož and Dr David Nesvorný (working in the USA) as well as with Lund Observatory in Sweden. Using computer simulations generated by the IT4Innovations supercomputers, this project aims at researching formation of planetary embryos and their dynamic development in protoplanetary disks of dense gas and dust rotating around young newly formed stars.