The petascale system Karolina, acquired as part of the EuroHPC Joint Undertaking, was installed in 2021. In the TOP500 list, which evaluates supercomputers in terms of their performance, it ranked 69th worldwide, 19th in Europe, and in the Green500 list of the most energy-efficient supercomputers, it even ranked 8th in 2021. The HPC system is designed to respond coherently to the needs of its user communities, addressing complex scientific and industrial challenges, including standard numerical simulations, demanding data analysis, and artificial intelligence applications.
The new supercomputer reaches a theoretical peak performance of 15.7 PFlop/s, which corresponds to 15.7 quadrillion floating-point operations per second.
The supercomputer consists of 6 main parts:
a universal part for standard numerical simulations, which consists of approximately 720 computer servers with a theoretical peak performance of 3.8 PFlop/s,
an accelerated part with 72 servers, and each of them is equipped with 8 GPU accelerators providing a performance of 11.6 PFlop/s for standard HPC simulations and up to 360 PFlop/s for artificial intelligence computations,
a part designated for large dataset processing that provides a shared memory of as high as 24 TB, and a performance of 74 TFlop/s,
36 servers with a performance of 192 TFlop/s are dedicated to providing cloud services,
a high-speed network to connect all parts as well as individual servers at a speed of up to 200 Gb/s,
data storage that provides space for 1.4 PB of user data processing and also includes high-speed data storage with a speed of 1 TB/s for simulations as well as computations in the fields of advanced data analysis and artificial intelligence.
TECHNICAL INFORMATION OF THE karolina SUPERCOMPUTER
PUT INTO OPERATION

summer 2021

THEORETICAL PEAK PERFORMANCE

15,690 Tflop/s

OPERATING SYSTEM

Centos 64 bit 7.x

COMPUTE NODES
831

CPU

720x 2x AMD 7H12, 64 cores, 2,6 GHz, 92,160 cores in total

72x 2x AMD 7763, 64 cores, 2,45 GHz, 9,216 cores in total

72x 8x NVIDIA A100 GPU, 576 GPU in total

32x Intel Xeon-SC 8628, 24 cores, 2,9 GHz, 768 cores in total

36x 2x AMD 7H12, 64 cores, 2,6 GHz, 4,608 cores in total

2x 2x AMD 7452, 32 cores, 2,35 GHz, 128 cores in total

RAM PER COMPUTE NODE
256 GB / 1 TB (GPU) / 24 TB fat node
320 GB HBM2 (8 x 40 GB) GPU
ACCELERATORS
576x NVIDIA A100
STORAGE
30.6 TB / home (1.93 GB/s sequential

write performance

, 3.10 GB/s sequential read

performance

),
1,361 TB / scratch (NVMe, 730.9 GB/s sequential write performance, 1, 198.3 GB/s sequential read performance)
INTERCONNECT
Infiniband HDR 200 Gb/s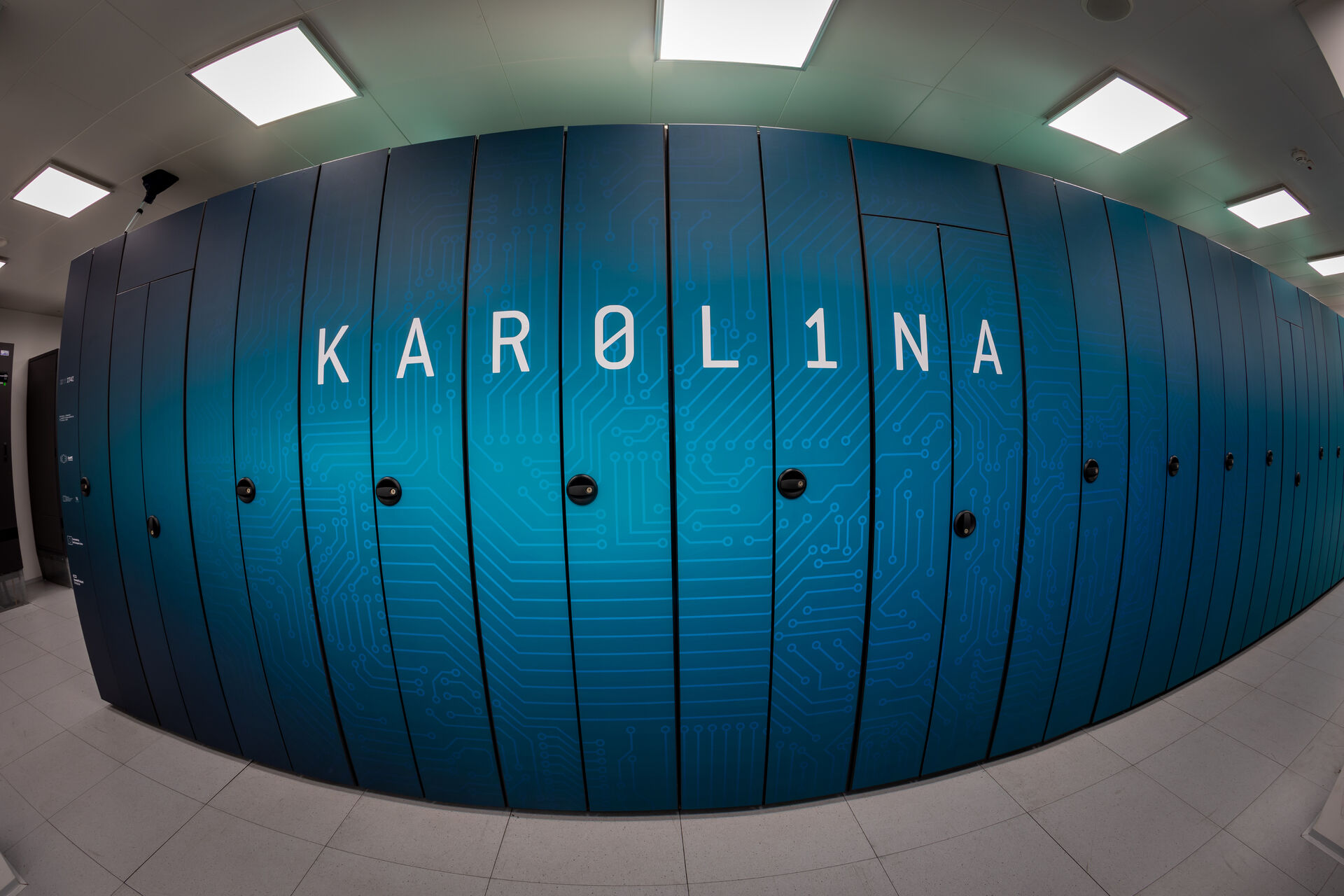 Learn more at docs.it4i.cz.
CLUSTER UTILIZATION OF THE karolina SUPERCOMPUTER
View current Karolina supercomputer data.
Dashboards display the current state of the supercomputer. The displayed values are:
utilization
node allocation
filling HOME and SCRATCH repositories
statistics of PBS tasks and TOP7 software modules
the number of days of operation since the last outage and the date of any planned new outage
MOTD (Message of the Day)
responsible for the Service of the day